As you might have realized by now, I spend much of my free time kayaking and canoeing for turtles in northern Michigan. My goals involve having fun on the rivers, enjoying the outdoors, finding turtles, and photography. Unfortunately, problems occur when "having fun on the rivers and photography" collide.
"insert here picture of me soaking wet, with a flipped boat, holding my camera gear above my head"
Luckily, that picture doesn't exist. Oh it happened twice this season, but no one photographed it.
I had until this point been happy borrowing kayaks from friends, or renting kayaks and canoes from various liveries. I found the smaller kayaks miserable, as my legs constantly cramped up and went numb. I also was constantly toying with disaster, as I found they were relatively easy to flip if one wasn't paying attention. I was lucky in that both times I flipped, all my gear was stowed away in dry bags, but it wasn't hard to imagine my spotting a turtle, pulling out the camera and lenses, focusing on the turtle (not the river) and ending up in the drink...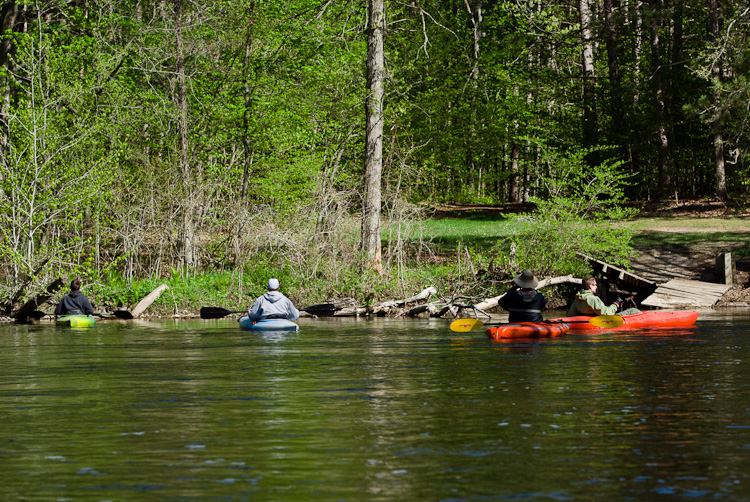 Turtlers enjoying the paddle
When I was fortunate enough to canoe with a partner, I enjoyed the added stability and often would float with my camera in my lap, ready for the turtles. I wondered if I could find that kind of stability in a kayak...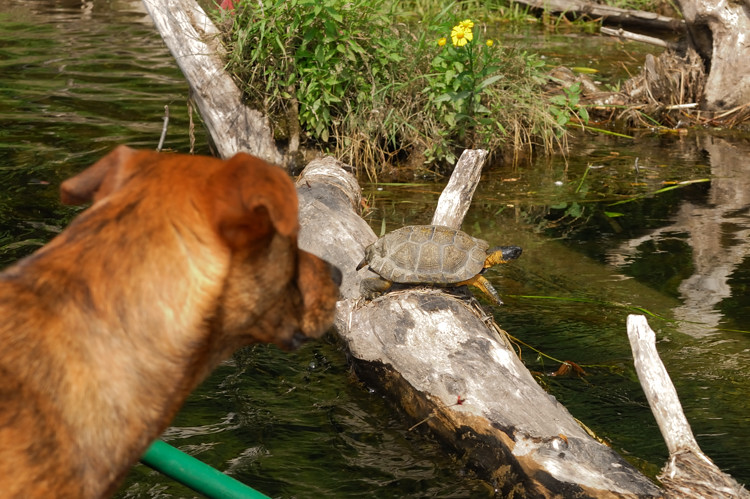 One of my favorites taken from a canoe
I started looking at sit on tops kayaks as well as fishing kayaks. Sit on tops seemed a bit more stable, but often gave up on storage and maneuverability. I did like that I could just slide off the side of the boat if I decided to go in the drink after a turtle. Fishing kayaks are designed with the fisherman in mind, often with things that would benefit the intrepid turtler. They have ample storage, increased width/stability for the fisherman to stand(!!!) and cast, and often incorporate sit on top models with super comfy seats.
You gotta be able to slide in nicely for em...
Luckily, the worlds aligned for me. On my perfect day of turtling, I found the perfect kayak. I asked the owner of random livery I had chosen to rent my kayak that day if he had any sit on top or fishing kayak models. He seemed perplexed by my lack of fishing gear, and I explained my true intentions of photographing turtles. He mentioned he had just received a new boat that he thought would be perfect. It was love at first sight...
Wouldn't this be nice...
This day
was epic for many reasons. I found a crap load of turtles, and fell in love with a kayak. I hope to be the proud owner of a Jackson Kayak Coosa for the next season if I am lucky. It has the leg room, stability, comfy seat, and room to slide in I am looking for. You can even add a drag chain to "drop anchor" and slow down if I spot a turtle I want to photograph. This kayak was made for fishing rivers, and I am convinced it is the perfect turtle boat. I may have only spent one day with it, but I hope to spend many more in the future. I am sure you will be the first to know if I do. A true Cinderella story...