As you may have noticed from previous posts, I highly enjoy searching for wood turtles during the warmer months. I my opinion, there is nothing better than cruising in a nice canoe/kayak down a northern Michigan river. Each year I try to add another river or two to my list, and hopefully a new wood turtle as well.
I probably won't get out again, but I won't completely close the book on the season yet. Anyway, this year was extra successful. I kayaked 5 Michigan rivers this season on all parts of the state. 3 of those were new for me. One of the repeats was a river I have yet to see a wood turtle on yet, and it is unclear if they are even still there. I will most likely do this river each year at least once in hope of getting lucky. The only day I got skunked was on this river, and it did rain all day early in May.
I want to share with you a magical day in mid-July. I was looking into a few rivers to paddle in NW Michigan, near where my wife and I vacation for a few days each summer. The friend we stay with mentioned he fishes one of them and told me it was by far his favorite river. I was hooked. I applied some of my past experiences in deciding how to attack the river, and drew up a game plan.
Part of that plan was trying out a sit-on-top kayak or a fishing kayak. I had already flipped a canoe with my dogs this spring, as well as a small kayak randomly and am trying to avoid that as much as possible. I pulled up to the store around 830-9 am and asked about renting a kayak for the day. I was informed I was in luck, not only did have have a couple sit-on-top boats, but he had a new one that just came in that he thought we would perfect for me (we can visit the perfect boat subject later). He also mentioned they see tons of turtles on the river. Needless to say, I was getting excited.
I was dropped at the put-in site a few minutes later. I usually explore around a little, but I was too anxious today. After a short prep with the new boat, I was on the water. I paddled under the bridge overhang, looked to my left and noticed a wood turtle basking right there. We were off like a herd of turtles...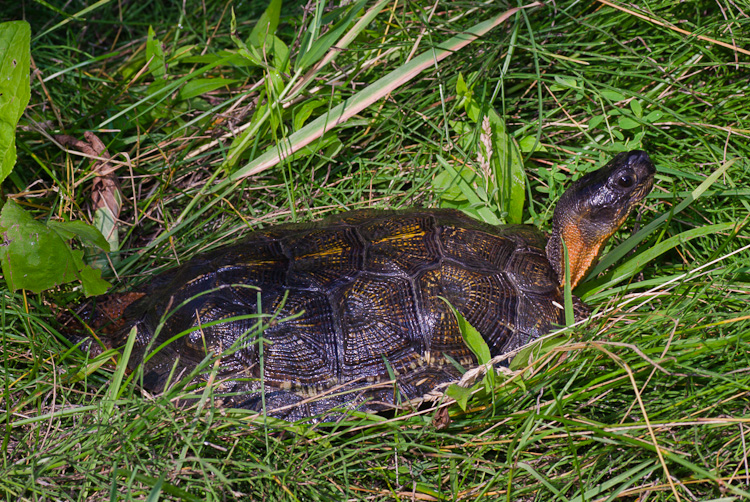 Seriously, that easy?
It was about 930am. I will spare you the intimate details, but basically I spotted 10 turtles in the next 2 hours, and 14 for the 4 hours. It was unreal. I would climb in the boat, paddle a little, then see a turtle, turn around, find a way to photograph it, rinse and repeat. Again. And again. It rocked.
And finally, the last of the day, about 20 yards away from the bridge I would get out at.
This day was pretty awesome. I only saw 1 other turtle, a large snapping turtle. I can't believe it is always that awesome, but the owner of the shop did say they see tons of turtles... Have to check it out again next year as well.
So how was the kayak? Ahh more to come on that later...
BH