Thursday, August 30, 2012
Thursday, August 2, 2012
My brother Brian started his graduate studies in the Guyer (Herp) Lab at Auburn University last fall. Whenever I speak with him, he goes on and on about how awesome Alabama (the state) is. Since I can't even pick Alabama out on a map (haha), I have remained skeptical. Why would I want to go visit such a crap hole? After much persuasion, he finally convinced me to fly down this summer so that my education in Alabama, and it's herps, could begin in earnest.
I had a layover in Atlanta get delayed a bit, so I ended up getting in pretty late. I met Brian near the camping location in one of the national forests after picking a DOR scarlet snake off of the road. This was a bummer, as I am still hoping to find my first one of these.
Brian was happy to see me, proof of how miserable the south must be, and ready to show my some stuff. Sadly, he had just found a couple Pine Barrens Tree Frogs
Hyla andersonii,
and he didn't want to fight the swamp go back out there so late. This was one of my top targets. It sounded far away though (it wasn't) so I let him convince me to put it off for another night. In his defense, it was super late, and he had herped all day and looked pretty gassed. We poked around a swamp for a few minutes, and I spotted my first cottonmouth of the trip.
We also photographed this cool pickerel hanging out in the swamp.
As a further testimate to Brian's fatigue, he passed over these 2 DOR southern copperheads without even braking. They would have been a lifer, but alas no live ones were found throughout the trip.
There were numerous species of frog calling at our campsite. Cricket frogs, green treefrogs, squirrel tree frogs and bird-voiced treefrogs were all chorusing, but I was only able to locate a green for photos.
The next day Brian and I got up early and explored some long leaf pine hoping for gopher tortoises and eastern diamondback rattlesnakes. We found plenty of tortoise burrows, but no one was home at the time. I flipped this narrowmouth toad under a shaded log.
And Brian dipnetted some tadpoles out of a pond. We think this is Hyla gratiosa.
We flipped some scorching hot tin, and explored another area without much luck. After turning back out on one of the side roads, we saw a lumbering dome shelled turtle crossing the road ahead of us. Immediately we thought it was a gopher tortoise, but we were even more stoked to realize it was a chicken turtle!
Deirochelys reticularia
We were both very excited about this turtle as it was a new species for both of us. Next, Brian showed me a nice river where map turtles were common. The water level and current were way up due to recent rains and most of the snags seemed to be underwater. We started making the swim up stream, and immediately spotted the king of the river basking.
I went back for my camera and my dry bag so I could photograph him from the water. He let us get fairly close before dropping into "our" domain. Oh well, we continued on of course.
We soon spotted our quarry, a couple young male Graptemys ernesti.
While photographing these from the river in the strong current, I accidentally dipped my dry bag into the water. It was easily emptied out, but it became a "moist" bag. It kept my camera from being dunked in the river after that, but unfortunately my ancient Nikon D200 couldn't withstand the little moisture in the bag. The weather-proofing has long since been obsolete thanks to numerous cracks, bumps and bruises over the years. The screen fogged up, and the sensor died on me shortly there after. This was rather unfortunate, as Brian captured one of the handsome turtles for pictures.
At this point I was ok with how things stood. I was pretty bummed my camera died on this awesome trip, but I was due for a new one anyway. I won't go into my frustrations with Nikon, but I will say I have always had the stance that I would rather risk getting the camera a little wet and muddy for pictures, then leave it back in the car out of fear. Maybe taking it snorkeling in rivers, "moist" bag or not, is on the extreme end of the spectrum, but I really like in situ turtle pictures. For me it was worth it.
We checked some traps that Brian had set and turned up our lifer Amphiuma and loggerhead musk turtles. Now I am missing my camera... Brian also flipped a handsome dusky salamander.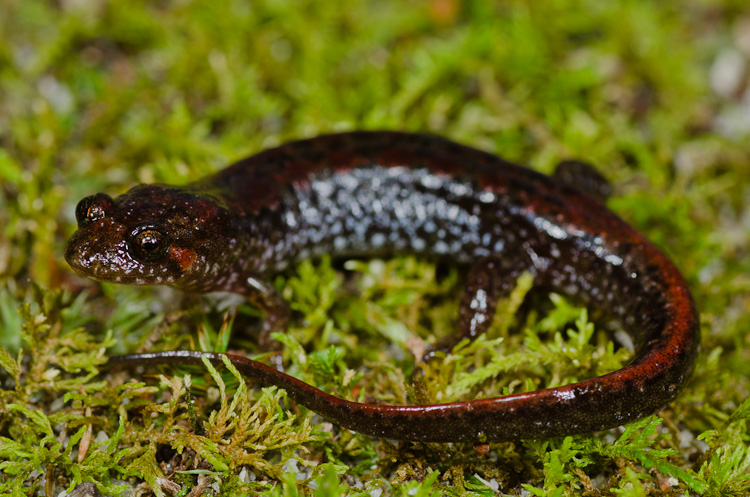 Desmognathus sp. photographed the next day
It was late in the afternoon, and Brian was going to attend a friends BBQ. We tried finding me a camera at Walmart, without much luck. I called a Best Buy, 2 hours away and tracked a camera down that I was sorta happy with, a Nikon D7000. I made the drive with plans to meet Brian at dusk.
I quickly tried to learn the camera and set it up on the way to our meeting point. A few minutes after setting out on our hike, we found our quarry. The endemic Alabama Red Hills Salamander
Phaeognathus hubrichti
. To say I was excited was an understatement. The salamanders have a really neat natural history and hang out in their burrows waiting for prey to walk by. They are rarely, if ever, seen out of their burrows. You typically just see them like this.
But persistence pays off sometimes, and Brian may thank me someday. He was a little tired at the time. These salamanders are actually quite large.
I tried to convince him to make a run for
Hyla andersonii
but he wasn't having it. We tried some roadcruising without any luck, and I was left wondering what happened to all the copperheads from the night before.
The next day we set out to a spot with more amphibians in mind. Brian spotted this cooter basking on a log.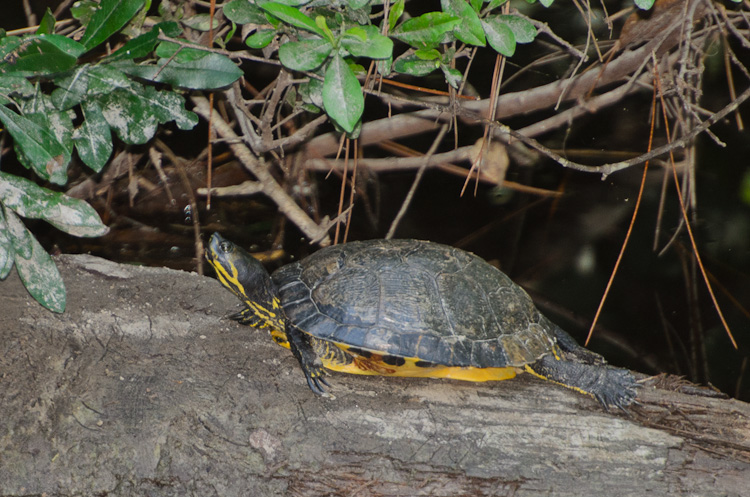 Pseudemys sp. I don't remember our consensus, concinna maybe?
It took us quite a few dips this time of the summer, but the leafpacks produced another really cool salamander, the waterdog.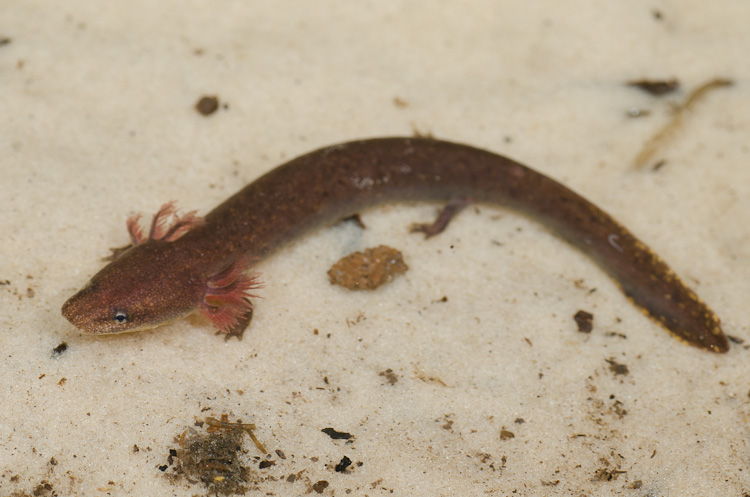 Necturus sp.
We also scored a loggerhead musk turtle,
Sternotherus minor
.
Checking the amphiuma traps again yielded a few more loggerhead musk turtles, but no amphiumas today. No pics for me.
Brian flipped this young cottonmouth under a log.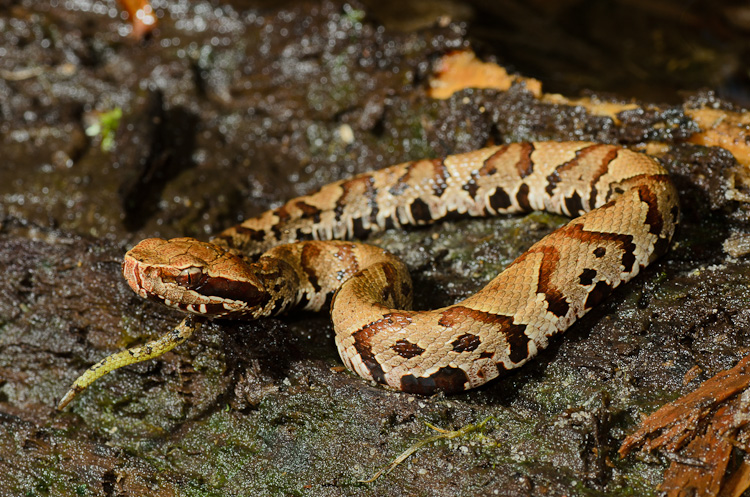 Agkistrodon piscivorus
We explored the stream pictured, and Brian found, then lost a red salamander, as well as a lesser siren!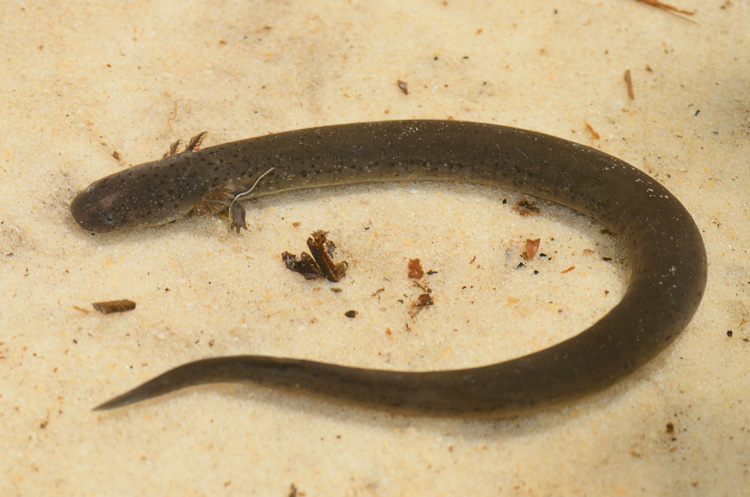 Siren intermedia
Who knew Alabama had such salamander diversity? And we barely scratched the surface...
The aptly named Dwarf Salamander
Eurycea "quadridigitata"
was tiny.
Desmognathus conanti
Desmognathus sp.
We had a long drive to the coast ahead of us, so we started planning our exodus. I was desperately trying to figure out a way to fit
andersoni
i into the picture, but Brian was biting. One reason to go back...
We cruised a bit, and found this heart breaking sight.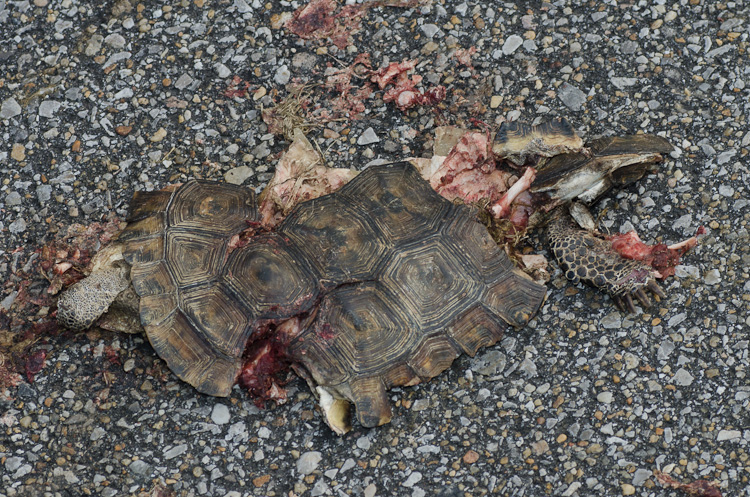 Gopher Tortoise
And a "grey" rat.
Brian's job for the summer was helping catch, mark and monitor turtle populations. I was lucky enough to take along for a couple days of trapping. We set out on the boat bright and early to catch some turtles, something I had very much been looking forward to!
Some showed evidence of their tough existence in the brackish water.
We quickly pulled a number of our quarry out of a few traps -
Pseudemys alabamensis.
Handsome turtles indeed.
Pseudemys floridana
were also very numerous.
Sadly, around this time I had a camera malfunction - yes the new camera. It was completely my fault and it really tore me up. Ask me about it in person some time. I want to apologize again to Brian, and thank Brian, Greg and Jim for putting up with me. I paid for my actions dearly when Greg snorkeled up our one and only Alligator snapping turtle,
Macrochelys temminckii.
Reason number two to return...
Insert gator snapper here.
The camera was nursed back to health for some night time festivities, and after an extensive search, we were able to spot a couple chorusing barking treefrogs,
Hyla gratiosa
.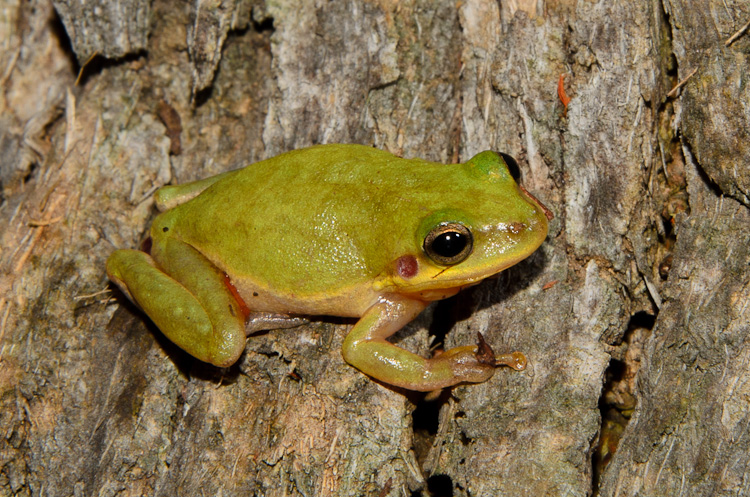 Hyla squirrela
The next day was more checking of traps. We turned up
Pseudemys alabamensis, floridana,
and
concinna
.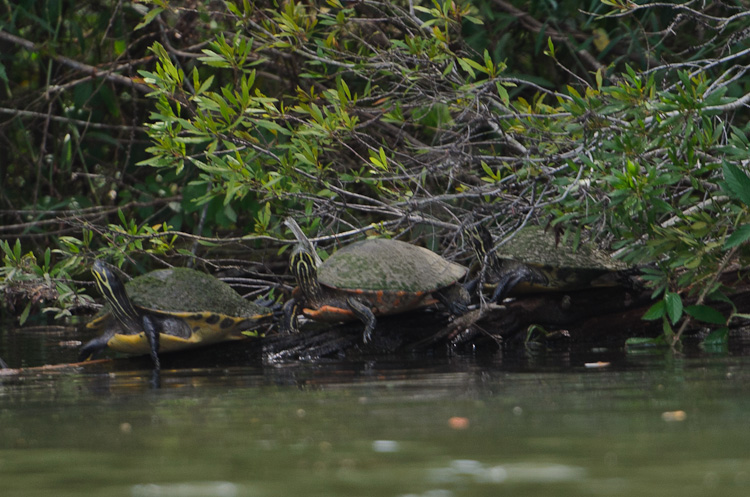 Floridana, alabamensis, floridana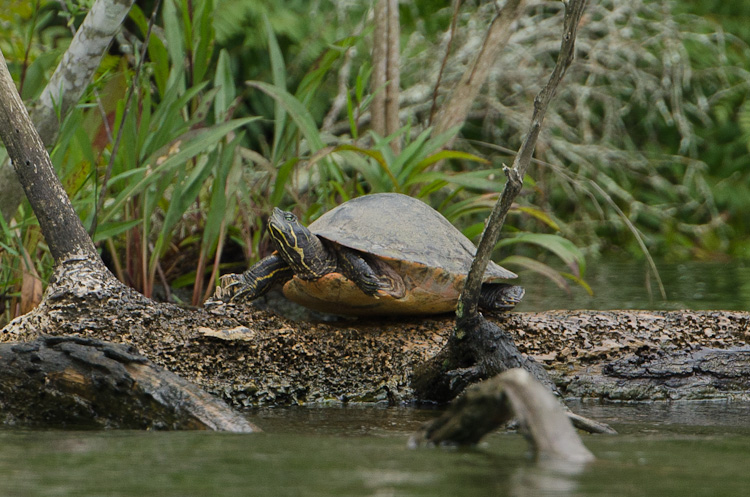 alabamensis
We tried our hand at snorkeling again without any luck on
Macrochelys
. We again turned up a ton of loggerhead musk turtles. It was interesting boating around this river though. All the docks had mail boxes and were decorated by their team or motto of choice. There were numerous "WAR EAGLE" and "ROLL TIDE" signs everywhere you looked and I enjoyed hearing a bit about the history behind the war eagle motto.
Back at the dock, I flipped a log to turn up an eastern glass lizard,
Ophisaurus ventralis
.
A nasty set of clouds were moving in, but I desperately tried to take advantage of some daylight and drive up a ways to take a shot for Delta Map Turtles. This was massively unsuccessful. I returned to basecamp and we took a shot at roadcruising. We saw a few DORs, but this was mostly a bust as well. We got back around 11pm. I showered and packed up in time to take an hour nap. Around 2 am I woke up to drive to Pensacola for my 6am flight back to the midwest. Remind me not to do that again.
All in all, it was an amazing trip. Alabama is truly a special place and I can't wait to return. I have some unfinished business, and maybe if I stop being an idiot Brian will invite me back. I am already penciling it in for next summer though!