We had a little drive in front of us and we wanted to be sure to have most of the day available for hiking. We were hoping to check out some areas of the Chiricauha Mountains. We were really still hoping for a pyro, and they turn up pretty regularly over there. The Chiris had been ravaged by the fires that roasted areas of Arizona all summer. Most of the roads, campgrounds and hiking trails were actually closed to public use. Carl and I had hiked a trail in 2007 that we thought looked excellent, although it didn't produce anything other than lizards at the time. It was open, and although fires had torn through there, it was already turning green after the rains.
We explored an excellent looking hillside for the few hour or two and were frustrated to not turn anything up. I think the lack of sleep and close quarters was getting to wear on us a bit, and there was a bit of a snafu regarding the ID of a Sceloporus... We needed some finds and fast. I had spotted a talus slide up the hill and a bit up the trail. While working to it we started to wander through an ever increasing rocky hillside. I was extremely pleased to be buzzed by a Rock Rattlesnake
Crotalus lepidus klauberi
. This seems to be my specialty, where Carl excels at finding willardi. Today was looking up!
I have heard people discuss and argue about the greenish coloration of klaubs and how hard it is to get it to show up in photos like it did in person. I am extremely frustrated to admit my experiences are similar. This animal had a very nice green stripe running down the back which I failed to truly capture.
You can seen the burned ground with some shoots of green starting to poke through.
We ended up in a system of extensive talus. I was hoping for twin-spot rattlesnakes, but I wonder if we weren't high enough in elevation.
I ended up being buzzed by 2 more klauberi in the rocks, which quickly disapeared, and Brian also was buzzed by one as well, making our total for the day 4. The second one we saw briefly and it was more of a dark/reddish color. I think Brian might have been the only one to get a shot of it.
At least the talus was dry today.
Fall off your bike? Gotta get right back on!
I am suprised we didn't see more. It was a pretty awesome day and snakes were out. Love ya Chiris!
We cruised a bit that night with minimal success. I was real happy to pick up the Green Toad
Bufo debilis
though.
Mexican Spadefoot Toad
Spea multiplicata
Mohave
We got up early and explored a new range for us a little into New Mexico. It had poured the day before, but we had phenomenal weather. I am shocked we didn't turn up more. I heard this range is hard to hunt, and I think we did pretty well. The holy grail of US herps eluded us. All the more reason to go back another time.
Aspidoscelis sonorae
(could be uniparens?)
Aspidoscelis exanguis
Sceloporus sp (cowesli vs virgatus)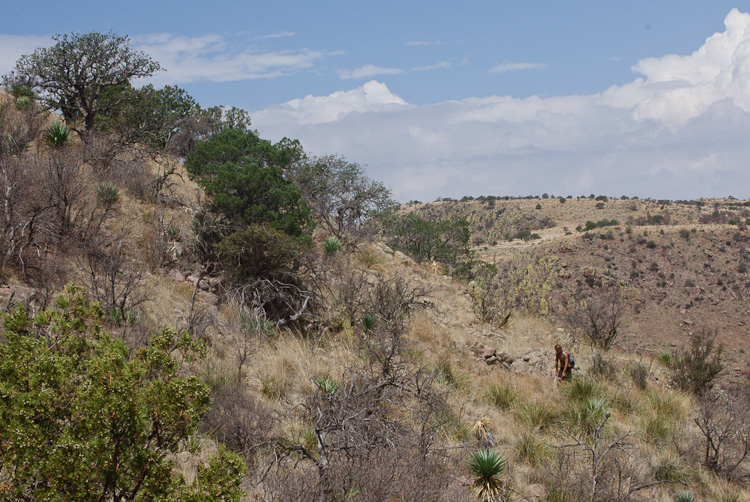 Hard work out there. Who said herping is easy?
Prior to this trip my mom kept freaking out about us going to close to the border. I never told her we were hiking within a few miles of it. Huge immigration/drug trafficking site right here. We were scoped out by numerous border patrol cars during the day, one helicopter and there was even a jet fly by.
We broke off for lunch and planned to explore some new areas. I was still sitting by the car looking up the local whiptails in the guide when Brian started jumping for joy. He had just made THE snake find of the trip.
Crotalus lepidus klauberi
Yowsa


It started to rain and Brian made like a wuss and hid in the car for a while. The rain let up, the sun popped back out and I thought for sure we would see more. (Nasty storms were in all the ranges around us while we had a little patch of sunny paradise to ourselves). Brian dragged himself out of the car and it was a good thing he did because he found another new species for us.
Mountain Patchnose Snake
Salvadora grahamiae
that had just shed after the rain.
"Namesake"




By this time it was starting to get a little late. We were gassed and yet pretty happy with the day. Shortly into the drive back to civilization, this beast was crossing the road.
Crotalus molossus
I told you when it rains, it pours.
We drove quite far that night to try and roadcruise for Arizona Black Rattlesnakes. This would be our 4th or 5th effort to get in their habitat. Skunked again.
Token mohave.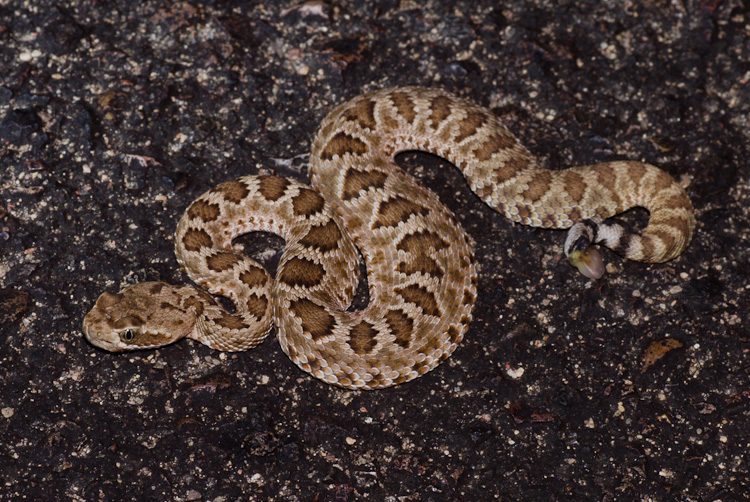 Still wouldn't want to be tagged by this cute little guy!
Breeding
Bufo cognatus
This would be our last night with Carl as he was flying back in the afternoon tomorrow. We turned in back to the hotel and got some rest with a plan to try and roadcruise during the morning before taking him back...
BH
Click here for
Part I
,
Part II
,
Part III
and
Part IV
.